El museo: historia de un cuerpo y sus funciones
Palabras clave:
Museo ; Historia ; Cuerpo ; Función ; Documentos ; Significado ; Memoria colectiva
Resumen
El ensayo propone un estudio del museo desde un punto de vista histórico, desde su nacimiento en Occidente hasta la actualidad, pasando por todas las transformaciones que ha sufrido en relación con la arquitectura, disposición, significado y función.
Citas
Cristina Acidini Luchinat, Il museo d'arte americano, Milano, Electa, 1999.

Marcella Aprile, Museo, Palermo, Flacovio Editore, 1991.

Rudolf Arnheim, Art and visual perception: a psychology of the creative eye, The Regents of the University of California, 1954

Georges Banu, Il rosso e oro. Una poetica della sala all'italiana, Milano, Rizzoli, 1989.

Luca Basso Peressut, a cura di, I luoghi del museo. Tipo e forma fra tradizione e innovazione,Roma, Editori Riuniti, 1985.

Luca Basso Peressut, Musei per la scienza/Science Museums, Milano, Edizioni Lybra Immagine, 1998.

Jean Baudrillard, La società dei consumi.I suoi miti e le sue strutture, Bologna, Il Mulino, 1976.

Jean Baudrillard, L'effet Beaubourg. Implosion et dissuasion, Paris, Galilée, 1977.

Walter Benjamin, Das Kunstwerk im Zeitalter seiner technischen Reproduzierbarkeit, Frankfurt am Main, 1955.

Sergio Bertelli, a cura di, Le corti italiane del Rinascimento, Milano, Mondadori, 1985.

Luciano Berti, Firenze città rinascimentale, Novara, Istituto Geografico de Agostini, 1972.

Cristoforo Sergio Bertuglia e altri, Il museo tra reale e virtuale, Roma Editori Riuniti, 1999.

Franco Borsi, L'architettura del principe, Firenze, Giunti Martello, 1980.

Bruce Brooks Pfeiffer, Frank Lloyd Wright Master Builder, London, Thames and Hudson, 1997.

Peter Buchanan, Renzo Piano Building Workshop, 3 voll., London, Phaidon, 1993.

Richard Burdett, a cura di, Richard Rogers Partnership. Opere e progetti, Milano, Electa, 1995.

Paul Chemetov, L'opéra Pompidou, in "Techniques & Architecture", n° 317, dicembre 1977.

Marcel Cornu, Ce diable Beaubourg, in "Techniques & Architecture", n° 317, dicembre 1977.

Carlo Cresti, Wright: Il Museo Guggenheim, Firenze, Sadea, 1965.

Fabrizio Cruciani, Lo spazio del teatro, Bari, Laterza, 1992.

Douglas Davis, The museum transformed. Design and culture in the post-Pompidou Age, New York, Abbeville Press Inc.,1990

Guy Debord, La société du spectacle, Paris, Editions Gérard Lebovici, 1967.

Massimo Dini, Renzo Piano. Progetti e architetture 1964-1983, Milano, Electa, 1983.

Giampiero Donin, a cura di, Renzo Piano pezzo per pezzo, Roma, Casa del Libro, 1982.

Alexander Dorner, The Way Beyond "Art", New York, Wittenborg Schultz, 1946.

Michael Eissenhauer, Astrid Bæhr, Elisabeth Rochau-Shalem, Museum Island Berlin, Berlin, Hirmer Publishers, 2012.

Sergej M. Ejzenstein, Teoria generale del montaggio, Venezia, Marsilio, 1985.

Amelio Fara, Bernardo Buontalenti. L'architettura, la guerra e l'elemento geometrico, Genova, Sagep Editrice, 1988.

Pavel Florenskij, La prospettiva rovesciata, Milano, Adelphi, 2020.

Pavel Florenskij, Le porte regali. Saggio sull'icona, Venezia, Marsilio, 2018.

Pavel Florenskij, Lo spazio e il tempo nell'arte, Milano, Adelphi, 1993.

Diane Ghirardo, Architecture after modernism, London, Thames and Hudson, 1996.

Robert C. Holub, a cura di, Teoria della ricezione, Torino, Einaudi, 1989.

Antonella Huber, Il museo italiano/The italian museum, Milano, Edizioni Lybra Immagine, 1997.

Imagining the Future of The Musum of Modern Art, New York, The Museum of Modern Art, 1998.

Charles Jencks, Architecture today, London, Academy Editions, 1988.

Donald Judd, Due culture, in "Lotus International", n° 73, Agosto 1992.

Ivan Karp, Steven D. Lavine, a cura di, Culture in mostra. Poetiche e politiche dell'allestimento museale, Bologna, Clueb, 1995.

Ivan Karp, a cura di, Musei e identità. Politica culturale e collettività, Bologna, Clueb, 1995.

Michael Kubovy, The psychology of perspective and Renaissance art, Cambridge University Press, 1986.

La defi Beaubourg, in "Architecture d'Aujourd'hui", n° 189, febbraio 1977.

La Grande Galerie du Muséum National d'Histoire Naturelle. Conserver c'est transformer, Paris, Publications du Moniteur, 1994.

L'art de l'exposition. Une documentation sur trente expositions exemplaires du XXe siècle, Paris, Editions du regard, 1998.

Neil Levine, The architecture of Frank Lloyd Wright, Princeton, Princeton University Press, 1996.

Adalgisa Lugli, Museologia, Milano, Jaca Book, 1992.

André Malraux, Les voix du silence, Paris, Editions Gallimard, 1951.

Filippo Tommaso Marinetti, Manifesto del Futurismo, in Guido Baldi e altri, Dal testo alla storia, dalla storia al testo, vol. III, tomo secondo, Torino, Paravia, 1994.

Robert McCarter, Frank Lloyd Wright, London, Phaidon, 1997.

Joseph Maria Montaner, Nuovi Musei. Spazi per l'arte e la cultura, Milano, Jaca Book, 1990.

Alessandra Mottola Molfino, Il libro dei musei, Torino, Umberto Allemandi, 1991.

Sergio Negrini, a cura di, Uffizi, Firenze, collana "I grandi musei" del T.C.I., Milano, Rizzoli, 1974.

Victoria Newhouse, Towards a new museum, New York, The Monacelli Press, 1998.

Erwin Panowfsky, Die Perspektive als "Symbolische Form", Leipzig-Berlin, B.G. Teubner, 1927.

Nikolaus Pevsner, Karl Friedrich Schinkel, in "Journal of the Royal Institute of British Architects", 3rd series, LIX, 1951-52. Renzo Piano, Dialoghi di cantiere, Bari, Laterza, 1986.

Wolfram Prinz, Galerie, Berlin, Gebr. Mann Verlag, 1976.

Arturo Carlo Quintavalle, Chi contesta Beaubourg?, in "Domus", n° 575, ottobre 1977.

Richard Rogers: 1978-1988, "A+U", December Extra Edition, 1998.

Kevin Robins – Antonia Torchi, a cura di, Geografia dei media, Bologna, Baskerville, 1993.

Alessandro Rocca, Dalla spirale alla rete, in "Lotus", n° 85, maggio 1995.

Michael Snodin, Karl Friedrich Schinkel: a universal man, London, The V&A Museum, 1992.

Deyan Sudjic, The architecture of Richard Rogers, London, Wordsearch, 1994.

The Pompidolium, in "The architectural Review", n° 963, vol. CLXI, maggio 1997.

Chris Van Uffelen, Contemporary museums. Architecture, history, collections, Salestein, Braun Publishing AG, 2011.

Robert Venturi, Complexity and contradiction in architecture, New York, The Museum of Modern Art, 1966.

Rudolf Wittkover, Architectural Principles in the Age of Humanism, London, Academy Editions, 1962.

Patrizia Zimolo Montini, L'architettura del museo. Con scritti e progetti di Aldo Rossi, Milano, CittàStudi Edizioni, 1995.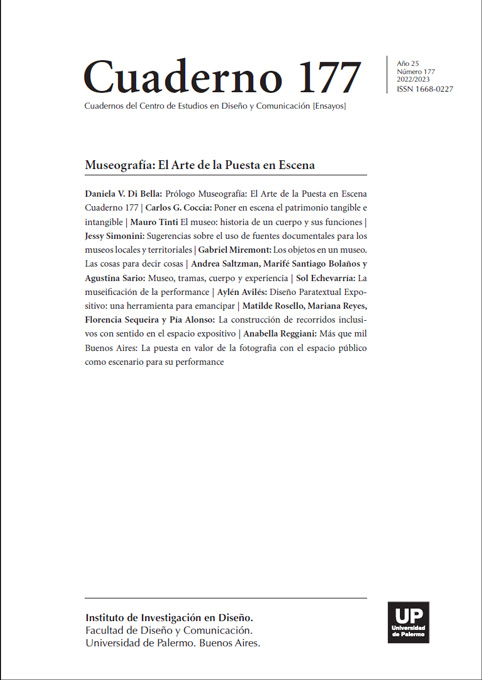 Cómo citar
Tinti, M. (2023). El museo: historia de un cuerpo y sus funciones . Cuadernos Del Centro De Estudios De Diseño Y Comunicación, (177). https://doi.org/10.18682/cdc.vi177.8627
Los autores/as que publiquen en esta revista ceden los derechos de autor y de publicación a "Cuadernos del Centro de Estudios de Diseño y Comunicación", Aceptando el registro de su trabajo bajo una licencia de atribución de Creative Commons, que permite a terceros utilizar lo publicado siempre que de el crédito pertinente a los autores y a esta revista.