La Vida, Lucky
Palabras clave:
patriarcado ; narrativas ; urbano ; violencia ; hip hop ; oprimido ; diáspora ; LGBTQ2S ; documental ; pobreza
Resumen
La vida de Waleska Torres fue documentada en una historia de no ficción titulada Lucky por la directora Laura Checkoway, producida por Neyda Martinez. La película, que se estrenó en 2013, se extendió por más de cinco años en las calles de la ciudad de Nueva York y siguió a Lucky Torres, quien creció huérfana en un sistema que la hacía sentir como una don nadie. En este artículo, en el análisis de Martínez y Potashnik ambas reflejarán tras el rostro de Lucky, para reexaminar la urgencia de su historia, evolución y viaje como una heroína poco probable que se atreve a vivir la vida en sus propios términos. Las autoras sostienen que la historia de Lucky sigue siendo tan vital y actual hoy como lo era en el momento del estreno, ya que la vida de Lucky subraya la difícil situación de innumerables jóvenes pobres marginados y abandonados que enfrentan circunstancias de vida similares. Enmascarada en tatuajes, Lucky se transformó en su propio lienzo. Su rostro grabado en tinta traza una vida de violencia y resistencia y crea una barrera autoimpuesta entre ella y el mundo convencional. La productora Neyda Martínez explica: "La historia de Lucky forma parte de una generación con padres perdidos a causa de la crisis del sida de los años 70 y 80. Forzados a soportar una educación transitoria sin seguridad y la falta del apoyo que brindan modelos a seguir responsables, en vez confían en los medios de comunicación para dar forma a sus sueños de éxito. ¿Por qué la gente rechaza a Lucky? ¿Por qué la gente se escandaliza por su postura y valentía? "Nosotros, nuestra sociedad, somos responsables de haberla abandonado y creado. Como artistas, nuestro trabajo es posicionar un espejo para mostrar claramente lo que muchos se niegan a ver "dice Martínez.
Citas
Babin, M. T., & Carrión A. Morales. (1983). Puerto Rico: A political and cultural history. Norton.
Balsom, E. (1 November 2019). There is No Such Thing as Documentary: An Interview with Trinh T. Minh-ha. Frieze issue 199. Decolonizing Culture: Where do we go from here? Link: https://www.frieze.com/article/there-no-such-thing-documentary-interviewtrinh-t-minh-ha
Brás, M. (2011). The Changing of the Guard: Puerto Rico in 1898. The Changing of the Guard: Puerto Rico in 1898 - The World of 1898: The Spanish-American War (Hispanic Division, Library of Congress). Link: https://www.loc.gov/rr/hispanic/1898/bras.html.
Birkhold, M. (2011). If You Don't Move Your Feet Then I Don't Eat: Hip Hop and the Demand for Black Labor Multidisciplinary Global Contexts, Vol. 4, No. 2, Reworking Race and Labor - pp. 303-321. Published by: Indiana University Press Link: https://www.jstor.org/stable/10.2979/racethmulglocon.4.2.303
Campbell, J. (2014). The hero's journey. New World Library. Casanova-Burgess, A. (2021). Executive Producer. LA BREGA, Podcast. Co-producers: WNYC, New York Public Media and Futuro Media Group. Link: https://www.wnycstudios.org/podcasts/la-brega
Checkoway, L. (2013). Director. Martinez, N. Producer. LUCKY, Documentary. Link: http://www.luckythedocumentary.com/
Caro, R. (1975). The Power Broker: Robert Moses and the Fall of New York. Vintage Books.
Catriona, M. & Poletra, J. (2010). Narrative Integration, Fragmented Selves, and Hypatia Inc.,Vol. 25, No. 1, pp. 31-54. Link: https://www.jstor.org/stable/40602639
Colón M. I. (2004). Ramón Frade's El Pan Nuestro: The Jíbaro as a Visual Construction of Puerto Rican National Identity. Althanor, Journal - Vol 22, pp. 77-83. Link: https://journals.flvc.org/athanor/issue/view/5588
Costosa, J.-I. S., & Perdikaris, S. (2018). Pawns of Policy and Problematized Perception: the Sustainability of Inequality Through the Space of African-American Childhood (thesis). Link: https://academicworks.cuny.edu/gc_etds/2663/
Denis, N. (2015). War Against All Puerto Ricans: Revolution and Terror in America's Colony. Nation Books.
Deutsch, K. (2019). 36,000 Public School Students Homeless in Bronx: Report. Bronx Justice News. https://bronxjusticenews.com/36000-bronx-public-schoolkidshomeless-in-2018-2019-data/#:~:text=More%20than%2036%2C000%20Bronx%20public,according%20to%20a%20new%20report
Díaz-Quiñones, A. (2000). De cómo y cuándo bregar (2000). Antología del pensamiento crítico puertorriqueño contemporáneo. Editor(s): Santory Jorge, A. and Quintero Rivera, M. Published by: CLACSO https://www.jstor.org/stable/j.ctvnp0jr5.17.
Dunbar-Ortiz, R. (2014) An Indigenous Peoples' History of the United States. Beacon Press's ReVisioning American History series.
Duany, J. (2002). Puerto Rican Nation on the Move: Identities on the Island and the United States. The University of North Carolina Press.
Drug Policy Alliance. (2021). Background on New York's Draconian Rockefeller Drug Laws. Link: https://drugpolicy.org/sites/default/files/FactSheet_NY_Background%20on%20RDL%20Reforms.pdf.
Emdin, C. (2010). From 1520 Sedgwick to the World: Masked but Not Erased. Urban Science Education for the Hip-Hop Generation, pp: 21–26, DOI / Link: https://doi.org/10.1163/9789087909888_004
Epstein, R., Blake, J. & Gonzalez, T. (2017). Girlhood Interrupted: The Erasure of Black Girls' Childhood. Center on Poverty & Inequality, Georgetown Law. Link: https://www.law.georgetown.edu/poverty-inequality-center/wp-content/uploads/sites/14/2017/08/girlhood-interrupted.pdf
Fanon, F. (1963). The Wretched of the Earth. New York. Grove Press.
Fernandez, J. (2020). The Young Lords: A Radical History. The University of North Carolina Press.
Ferguson, Roderick A. (2003). Aberrations in Black: Toward a Queer of Color Critique. University of Minnesota Press
Flood, J. (2010). The Fires: How a computer formula, big ideas and the best intentions burned down New York City – and determined the future of cities. Riverhead Books.
Fullilove, MD. M., Peterson, C. and Travis-Basset, M. Dr. (2016). Root Shock: How Tearing Up City Neighborhoods Hurts America, And What We Can Do About It. New Village Press; Second edition
Gershenson, A. (13 December 1998). Orphaned By AIDS: Giving Solace to Children Made Orphans, the Neediest Cases. The New York Times.
Gonzalez, E. (2004). The Bronx. Columbia University Press (Columbia History of Urban Life).
Gonzalez, J. (2011). Harvest of empire: a history of Latinos in America. Penguin Books. hooks, b. (2010). Understanding Patriarchy. Louisville Anarchist Federation Press. Link: https://imaginenoborders.org/pdf/zines/UnderstandingPatriarchy.pdf
Husak, A. (2018). Exercising Radical Democracy: The Crisis of Representation and Interactive Documentary as an Agent of Change. Alphaville: Journal of Film and Screen Media, no. 15, pp. 16–32, Link: www.alphavillejournal.com/Issue15/ArticleHusak.pdf
Hussein-Makke, S. "Reflections on Lucky." Received by Martinez, Neyda, Wednesday, April 28, 2021. Email Interview. Idea, N. "Reflections on Lucky." Received by Martinez, Neyda, Wednesday, April 28, 2021. Email Interview. Library of Congress (U.S.A.), Migrating to a New Land. Link: https://www.loc.gov/classroom-materials/immigration/puerto-rican-cuban/migrating-to-a-new-ld/
Madamba, A. and De Jong, G. (March 1994). Determinants of White-Collar Employment: Puerto Rican Women in Metropolitan New York. Social Science Quarterly, Vol. 75, No. 1, pp. 53-66. Published by: University of Texas Press Stable URL: https://www.jstor.org/stable/42863290
Martinez, N. (February, 2021). Dispatches from a Contested Utopia. The Latinx Project at New York University. Link: https://www.latinxproject.nyu.edu/intervenxions/dispatches-from-a-contested-utopia?rq=neyda+martinez+sierra&fbclid=IwAR3Kr_RfByqups3my6eNARraVCStx6AI5X4nV0Z9DKP4C0HxbtFPuJPnq20.
Martinez, N. (May, 2020). Revisiting the Bronx's Decade of Fire as Fault Lines Reemerge Under Pandemic. The Latinx Project at New York University. Link: https://www.latinxproject.nyu.edu/intervenxions/revisiting-the-bronxs-decade-of-fire-as-fault-lines-reemergeunder-pandemic?rq=neyda
Mazzei, P. and Robles, F. (24 July 2019). Ricardo Roselló, Puerto Rico's Governor, Resigns After Protests. The New York Times.
Namasta, K. (1994). The Politics of Inside/Out: Queer Theory, Poststructuralism, and a Sociological Approach to Sexuality.
Noble, K. (08 June 1985). "U.S. Study Details Employment Shift." New York Times
Robert Wood Johnson Foundation. (2017). Traumatic Experiences Widespread Among U.S. Youth, New Data Show. RWJF. Link: https://www.rwjf.org/en/library/articles-andnews/2017/10/traumatic-experiences-widespread-among-u-s--youth--new-data-show.html.
Rothberg, E. Sylvia Rivera. National Women's History Museum, 2021. March 2021.
Rothstein, R. (2017). The Color of Law: A forgotten history of how our government segregated America. Liveright Publishing Corporation, a Division of W.W. Norton and Company.
Said, E. (1978). Orientalism. New York. Pantheon Books.
Sanchez-Korrol, V. (1994). From Colonia to Community: The History of Puerto Ricans in New York City. University of California Press.
Silliman, W. S. (2008) The "Old West'' in the Middle East: U.S. Military Metaphors in Real and Imagined Indian Country. American Anthropologist, New Series, Vol. 110, No. 2, pp. 237-247. Published By: Wiley. Link: https://www.jstor.org/stable/27563986
Smith, A. (2010). Queer Theory and Native Studies: The Heteronormativity of Settler Colonialism. GLQ: A Journal of Lesbian and Gay Studies, Vol. 16, N.1-2, pp. 42-68.
Snorton, C. R. (2017). Black on Both Sides: A Radical History of Trans Identity. University of Minnesota Press.
Sosa-Pascual, O. and Mazzei P., (24 Oct 2017). Hurricane María: Where did the response operation fail? Center for Investigative Journalism and the Miami Herald. Link: https://periodismoinvestigativo.com/2017/10/hurricane-maria-where-did-the-responseoperation-fail/
Schlesinger, B. (1968) La Vida by Oscar Lewis Review by: Benjamin Schlesinger. Sir Arthur Lewis Institute of Social and Economic Studies, University of the West Indies Stable. Social and Economic Studies, Vol. 17, No. 1, pp. 103-105 Link: https://www.jstor.org/stable/27856313
Tate, G. (2003). Everything But the Burden: What white people are taking from Black culture. Crown
United Nations. (1993). Human Rights, Office of the High Commissioner. Vienna Declaration and Programme of Action. Adopted by the World Conference on Human Rights in
Vienna on 25. Link: https://www.ohchr.org/EN/ProfessionalInterest/Pages/Vienna.aspx
Vazquez-Irizarry, V. and Hildebran, G. (2018). Co-Directors. Steele-Allen, J. and Martinez, N. Producers. DECADE OF FIRE, Documentary. Link: www.decadeoffire.com
Vega, M. M. & Greene, C. (1993). Voices from the battlefront: achieving cultural equity. Africa World Press.
Walker, A. (2005). Collected poems: her blue body everything we know: earthling poems 1965-1990. Phoenix. Youth.gov. Homelessness & Housing Link: https://youth.gov/youth-topics/lgbtq-youth/homelessness#:~:text=A%20recent%20study%20of%20more,care%20system%3B%20and%20(4).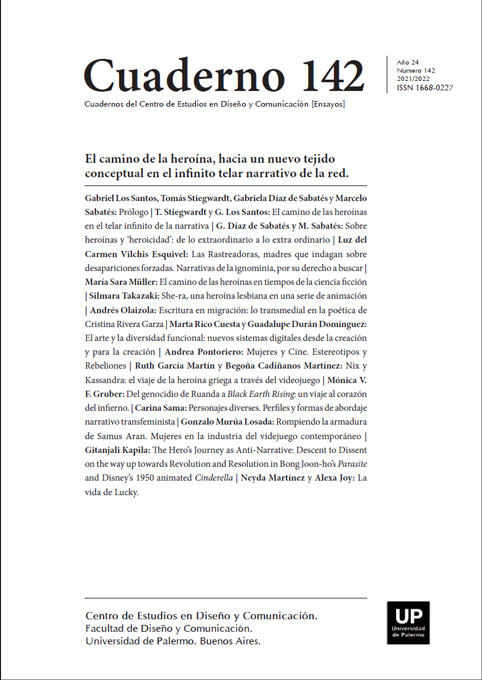 Cómo citar
Martínez, N., & Joy, A. (2021). La Vida, Lucky. Cuadernos Del Centro De Estudios De Diseño Y Comunicación, (142). https://doi.org/10.18682/cdc.vi142.5132
Los autores/as que publiquen en esta revista ceden los derechos de autor y de publicación a "Cuadernos del Centro de Estudios de Diseño y Comunicación", Aceptando el registro de su trabajo bajo una licencia de atribución de Creative Commons, que permite a terceros utilizar lo publicado siempre que de el crédito pertinente a los autores y a esta revista.