Toward adaptable and responsive facades: using strategies for transforming of the material and bio-based materials in favor of sustainability
Tarciana Andrade

José Nuno Beirão

Amilton José Vieira de Arruda

Carolina Eysen
Palabras clave:
Biomimética y Diseño ; Adaptación climática ; Fachada receptiva ; Deformación del material ; Diseño en crecimiento ; Materiales de base biológica ; Innovación ; Material receptivo ; Sostenibilidad
Resumen
El conocimiento actual demuestra la expansión de las propuestas de las fachadas receptivas recurriendo a enfoques biomiméticos, investigación de materiales y diseño algorítmico. Este trabajo recoge las tendencias en materiales y tecnologías que contribuyen al control térmico y ambiental de los edificios a favor de la sostenibilidad. Analizamos once propuestas de fachadas e instalaciones, los diseños elegidos cumplen con los siguientes criterios: presentar diferentes estrategias reversibles de transformación del material y/o materiales de base biológica. En obras futuras, pretendemos proponer nuevas soluciones de fachada receptiva para contribuir a la sostenibilidad de los edificios.
Citas
Aelenei, Daniel, Laura Aelenei, and Catarina Pacheco. 2016. "Adaptive Façade : Concept , Applications , Research Questions." Energy Procedia 91: 269-75.

Andrade, Tarciana et al. 2020. "Overview of Nastic Movements in Plants: A Data Collection for Developing Responsive Facades." In 4th International Conference for Biodigital Architecture & Genetics, ed. Alberto T. Estévez. Barcelona: iBAG-UIC, 212-21. AskNature. 2016. "Homeostatic Facade System: Decker Yeadon." https://asknature.org/idea/homeostatic-facade-system/#.XH1Oi4hKjIU (March 4, 2019).

Badarnah, Lidia. 2012. "Towards the Living Envelope: Biomimetics for Building Envelope Adaptation." Technische Universiteit Delf.

Becker, Tobias, and Simon Huffer. 2015. "Breathing Skins." https://www.breathingskins. com/ (April 9, 2019).

Benyus, Janine M. 2012. Biomimética: Inovação Inspirada Pela Natureza. 6th ed. São Paulo: Pensamento Cultrix Ltda.

Campbell, Thomas A., Skylar Tibbits, and Banning Garrett. 2014. "The next Wave : 4D Printing - Programming the Material World." Atlantic Council (January): 1-15. Research gate.

Charpentier, Victor et al. 2017. "Kinematic Amplification Strategies in Plants and Engineering." Smart Materials and Structures 26(6): 1-30.

Company New Heroes, and Dutch Design Foundation. 2019. "The Growing Pavilion." https://thegrowingpavilion.com/about/ (June 26, 2020).

DOSU Studio Architects. 2018. "DO|SU Studio Architecture." https://www.dosu-arch.com/ bloom (April 20, 2020).

EcoLogicStudio. 2019. "HORTUS_XL | Astaxanthin.G." https://www.create-sdu.com/projects/hortusxlastaxanthing (June 22, 2020).

Estévez, Alberto T. 2020. 4th International Conference for biodigital architecture & genetics Biodigital Architecture & Genetics. ed. Alberto T. Estévez. Barcelona: iBAG-UIC.

Fiorito, Francesco et al. 2016. "Shape Morphing Solar Shadings: A Review." Renewable and Sustainable Energy Reviews 55: 863-84.

Grown.bio. 2020. Grow It Yourself Mycelium Packaging Kit.

Gumuchdjian, Philip; Rogers, Richard. 2011. Cidades para um pequeno planeta. [Tradução: Anita Regina Di Marco]. 1 Ed. Barcelona: Gustavo Gilli.

Hensel, Michael Ulrich. 2008. "Performance- Oriented Design Precursors and Potentials." Architectural Design (March 2008).

Karana, Elvin, Davine Blauwhoff, Erik-Jan Hultink, and Serena Camere. 2018. "When the Material Grows: A Case Study on Designing (with) Mycelium-Based Materials." International Journal of Design 12(2): 119-36.

Kirimtat, Ayca, Basak Kundakci, Ioannis Chatzikonstantinou, and Sevil Sariyildiz. 2016. "Review of Simulation Modeling for Shading Devices in Buildings." 53: 23-49.

Knippers, Jan et al. 2016. "Flectofold: Bio-Inspired Kinetic Curved-Line Folding with Distinct Flexible Hinge-Zones." https://axelkoerner.com/2016/11/15/flectofold/ (March 26, 2020).

__________. 2018. "Flectofold Demonstrator, BauBionik Exhibition, Natural History Museum, Stuttgart, 2018." University of Stuttgart. https://www.itke.uni-stuttgart.de/research/ built-projects/flectofold-demonstrator/ (May 1, 2020).

Kuru, Aysu, Philip Oldfield, Stephen Bonser, and Francesco Fiorito. 2019. "Biomimetic Adaptive Building Skins: Energy and Environmental Regulation in Buildings." Energy and Buildings 205: 109544.

Lienhard, Julian et al. 2012. "Flectofin ® A Hinge-Less Flapping Mechanism Inspired by Nature International." International Bionic-Award 2012: 18.

Lift Architects. "The Air Flow(Er)." http://www.liftarchitects.com/air-flower (June 7, 2019).

Lotti, M. G. M. 2015. Processo de desenvolvimento e implantação de sistemas, medidas e práticas sustentáveis com vista a certificação ambiental de empreendimentos imobiliários: estudo de caso: Empreendimento Bairro Ilha Pura – Vila Dos Atletas 2016. Projeto de Graduação (Engenharia Civil) - Escola Politécnica, Universidade Federal do Rio de Janeiro, Rio De Janeiro, 2015.

Materiability Research Group. "Hydroceramic." 2013. http://materiability.com/portfolio/ hydroceramic/ (March 14, 2020).

Menges, Achim. 2012. "HygroScope: Morfologia Meteorossensitiva." http://www.achimmen ges.net/?p=5083 (March 14, 2019).

Menges, Achim, and Sean Ahlquist. 2012. Computational Design Thinking. London: John Wiley & Sons Ltda.

Queiroz, Natália de. 2015. "Artefatos Geradores de Microclima: Biommimética, Parametrização e Prototipagem Rápida Na Busca Por Soluções Bioclimáticas Para Clima Quente e Úmido." Dissertação de mestrado, Universidade Federal de Pernambuco, Recife, PE, Brasil.

Reichert, Steffen, Achim Menges, and David Correa. 2014. "Computer-Aided Design Meteorosensitive Architecture : Biomimetic Building Skins Based on Materially Embedded and Hygroscopically Enabled Responsiveness." Computer-Aided Design 60: 50-69.

Rathee, Akanksha et al. 2013. "Hydroceramic." https://iaac.net/project/hydroceramic/ (March 14, 2020).

Sack-Nielsen, Torsten. 2017. "Performance through Thickfolds: Approaching Climate-Responsive Behaviours through Shape, Materialisation and Kinematics." Aarhus School of Architecture.

Santana Neto, Ernesto José de, and Robson Canuto da Silva. 2016. "Computação Material : Um Estudo Sobre a Atualização Geométrica de Elementos Vazados Na Arquitetura." In SIGraDi 2016, XX Congreso de La Sociedad Ibero-Americana de Gráfica Digital, Buenos Aires: SIGraDi 2016, 43-49.

Schleicher, Simon et al. 2015. "A Methodology for Transferring Principles of Plant Movements to Elastic Systems in Architecture." In CAD Computer Aided Design, Elsevier Ltd, 105-17.

Sung, Doris Kim. 2016. "Smart Geometries for Smart Materials : Taming Thermobimetals to Behave." Journal of Architectural Education ISSN: 70(1): 96-106.

Sydney Gladman, A. et al. 2016. "Biomimetic 4D Printing." Nature Materials 15(4): 413-18. TBM Designs. 2020. "InVert Self-Shading Window System: Flipping Energy Efficiency on Its Head." https://www.tbm-designs.com/about (February 20, 2021).

U.S. Green Building Council. 2009. LEED Reference Guide for Green Building Design and Construction For the Design, Construction and Major Renovations of Commercial and Institutional Buildings Including 2009 Edition USGBC Membership.

Vazquez, Elena, Clive Randall, and Jose Pinto Duarte. 2019. "Shape-Changing Architectural Skins A Review on Materials , Design and Fabrication Strategies And." Journal of Facade Design and Engineering 7(2): 91–102.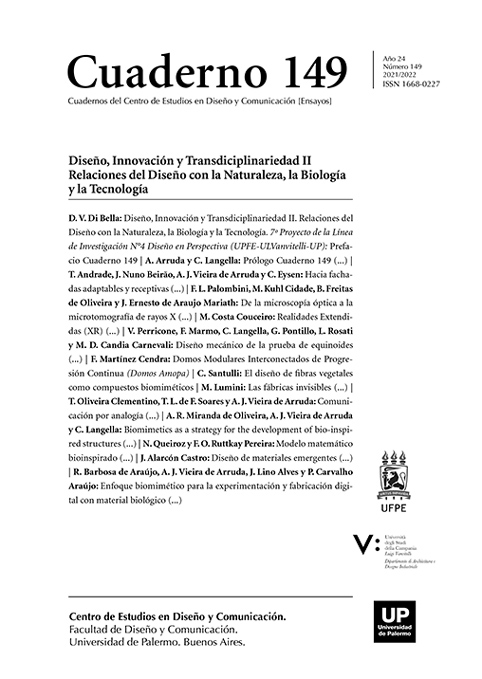 Cómo citar
Andrade, T., Nuno Beirão, J., Vieira de Arruda, A. J., & Eysen, C. (2021). Toward adaptable and responsive facades: using strategies for transforming of the material and bio-based materials in favor of sustainability. Cuadernos Del Centro De Estudios De Diseño Y Comunicación, (149). https://doi.org/10.18682/cdc.vi149.5515
Los autores/as que publiquen en esta revista ceden los derechos de autor y de publicación a "Cuadernos del Centro de Estudios de Diseño y Comunicación", Aceptando el registro de su trabajo bajo una licencia de atribución de Creative Commons, que permite a terceros utilizar lo publicado siempre que de el crédito pertinente a los autores y a esta revista.