Dominancia social, valores y posicionamiento ideológico en jóvenes universitarios
Elena Zubieta

Universidad de Buenos Aires, CONICET

Gisela Delfino

Universidad de Buenos Aires

Omar Fernández

Universidad de Buenos Aires
Palabras clave:
Conflicto Intergrupal, Dominancia Social, Estudiantes universitarios
Resumen
La teoría de la Dominancia Social (Sidanius & Pratto, 1999) postula que la discriminación grupal tiende a ser sistemática porque las ideologías sociales ayudan a coordinar las acciones de instituciones e individuos. La aceptación de ideologías que legitiman la desigualdad está en parte determinada por el deseo general de los individuos de dominación de unos grupos sobre otros. Este deseo es capturado por el constructo denominado Orientación de Dominancia Social (Social Dominance Orientation, SDO). Con el objetivo de indagar en los niveles de ODS y su relación con variables como el posicionamiento ideológico y valores, se desarrolló un estudio descriptivo correlacional, de diseño no experimental transversal sobre la base de una muestra no probabilística de tipo intencional compuesta por 254 estudiantes universitarios del cordón urbano circundante de la ciudad de Buenos Aires. Los resultados muestran que la ODS se asocia positivamente a valores de Poder y Logro y negativamente a la Benevolencia y el Universalismo. La ODS parece ser más fuerte en sujetos con posicionamiento ideológico cercano a la derecha. En los estudiantes prevalece una baja ODS, valores de Autotrascendencia y Autopromoción y un posicionamiento ideológico que tiende a la izquierda. La edad, la calidad de estudiantes de la muestra y la carrera de estudio pueden ser probables factores atenuantes de jerarquías. 
Descargas
La descarga de datos todavía no está disponible.
Citas
Allport, G.W. (1954). The nature of prejudice. Merlo Park, CA: Addison-Wesley. Altemeyer, B. (2004). The Other "Authoritarian Personality". En J. T. Jost y J. Sidanius (Eds.). Political Psychology. New York: Psychology Press. Bobbio, N. (1995). Derecha e izquierda. Madrid: Taurus.
Caprara, G.V & Zimbardo, P.G (2004). Personalizing Politics. A Congruency Model of Political Preference. American Psychologist, Vol. 59, N° 7, 581-594.
Cohen, G.L. (2003). Party Over Policy: The Dominating Impact of Group Influence on Political Beliefs. Journal of Personality and Social Psychology, 85 (5), 808-822.
D' Adamo O. y García Beaudoux, V. (2002). Actitudes y conducta. Actitudes políticas. En F. Morales, D. Páez et al. (Eds.) Psicología Social. Buenos Aires: Prentice-Hall.
Dambrun, M; Guimond, S & Duarte, S. (2002). The impact of hierarchy-enhancing vs. attenuating academic major on stereotyping: The mediating role of perceived social norm. Current Research in Social Psychology, 7, 114-136.
EspinozaPezzia,A&CalderónPrada,A.(2006).IdeologíaPolítica,ValoresCulturales y Miedo a la muerte. Su impacto después de los atentados del 11 de Marzo. Psicología Política, 32, 33-58.
Jennings, K.M; & Niemi, R.G. (1974). The political character of adolescence: The influence of families and schools. Princeton, NJ: Princeton University Press.
Levin, S. (2004). Perceived group status differences and the effects of gender, ethnicity, and religion on social dominance orientation. Political Psychology, 25, 31-48.
Marques, J, Páez, D, Techio, E, Mendoza Pinto, R & Espinosa Pezzia, A (2005). Control social subjetivo y valores culturales: Estudio transcultural experimental sobre el efecto Oveja negra y un estudio de campo sobre el 11-M. Revista de Psicología Social, Vol. 20, 3, Monográfico sobre el 11-M. 289-300.
Pratto, F; Sidanius, J; Stallworth, L.M & Matle, B.F. (1994). Social dominance orientation: A personal variable predicting social and political attitudes. Journal of Personality and Social Psychology, 67, 741-763.
Pratto, F; Liu, J.H; Levin, S; Sidanius, J; Shih, M; Bachrach, H & Hegarty, P. (2000). Social dominance orientation and the legitimization of inequality across cultures. Journal of Cross-Cultural Psychology, 31, 369-409.
Rodríguez, M.; Sabucedo, J. M. & Costa, M. (1993). Factores motivacionales y psicosociales asociados a los distintos tipos de acción política. Psicología Política, 7, 19-38.
Rokeach, M. (1973). The nature of human values. Nueva York: Free Press.
Schwartz, S. (1992). Universals in the content and structure of values: Theoretical advances and empirical tests in 20 countries. En M. P. Zanna (Ed.), Advances in experimental Social Psychology (Vol. 25, pp. 1-65). Nueva York: Academic Press.
Schwartz, S. (2001). ¿Existen aspectos universales en la estructura de los valores humanos?. En Ros, M. & Gouveia, V. (Eds.), Psicología social de los valores humanos. Desarrollos teóricos, metodológicos y aplicados. Madrid: Biblioteca Nueva.
Schwartz, S. (2005). Basic Human Values: Their content and structure across countries. En A. Tamayo y J. Porto (eds.), Valores y trabalho [Values and work]. Brasilia: Editora Universidade de Brasilia.
Sidanius, J; Levin, S & Pratto, F. (1996). Consensual social dominance orientation and its correlates within the hierarchical structure of American society. International Journal of Intercultural Relations, 20, 385-408.
Sidanius, J & Pratto, F. (1999). Social Dominance: An intergroup theory of social hierarchy and oppression. New York: Cambridge University Press.
Sidanius, J ; van Laar, C; Levin, S & Sinclair, S. (2003). Social hierarchy maintenance and assortment into social roles: A social dominance perspective. Group processes and Intergroup Relations, 6, 333-352.
Sidanius, J; Pratto, F; van Laar, C & Levin, S. (2004). Social Dominance Theory: Its agenda and Method. Political Psychology, 25, 845-880.
Wilson, G.D. (Ed.). (1973). The psychology of conservatism. San Diego, CA: Academic Press.
Zubieta, E. (2007). Creencias en la Ética Protestante del Trabajo (ETP) y Competición en estudiantes universitarios. Aceptado para su publicación en Perspectivas en Psicología, Vol. IV, Noviembre de 2007.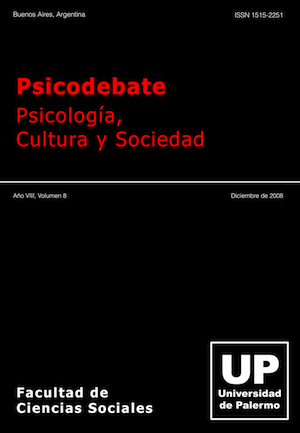 Cómo citar
Zubieta, E., Delfino, G., & Fernández, O. (2008). Dominancia social, valores y posicionamiento ideológico en jóvenes universitarios. Psicodebate, 8, 151-170. https://doi.org/10.18682/pd.v8i0.423
Sección
Investigaciones Originales
Los autores/as que publiquen en esta revista ceden los derechos de autor y de publicación a Psicodebate y aceptan el registro de su trabajo bajo una licencia de atribución de Creative Commons, que permite a terceros utilizar lo publicado siempre que de el crédito pertinente a los autores y a Psicodebate