Reacciones Comunitarias Frente A Situaciones De Desastre: Un Rol Emergente Para El Psicólogo Escolar
Bernie Stein

Ministry of Education, Israel
Palabras clave:
reacciones comunitarias, desastres, rol del psicólogo,
Resumen
El artículo describe maneras en las que una comunidad puede reaccionar ante situaciones de desastre, tanto locales como nacionales. Sobre la base de experiencias vividas en Israel en los últimos veinte años, incluyendo sucesos traumáticos recientes como el asesinato del Primer Ministro Yitzhak Rabin y las bombas terroristas suicidas, y una intervención en Buenos Aires, Argenina, después del atentado perpetrado en julio de 1994, se propone un modelo que describe etapas distintas de reacción. Se señala como relevante la creación y concreción de programas de prevención e intervención. Se enfatiza el rol de la escuela y del psicólogo escolar para la realización de esos programas y sus roles críticos para afrontar las crisis en lo inmediato y en momentos posteriores. El programa preventivo se centra en el refuerzo de posibilidades internas de niños y docentes (innoculación) y brinda elementos para garantizar el apoyo emocional de los profesionales a cargo de la situación de crisis. Finalmente, se propone un modelo para el desarrollo futuro de la especialización en psicología escolar desde una perspectiva comunitaria. 
Descargas
La descarga de datos todavía no está disponible.
Citas
Freud, S.(1917) 'Mourning and Melancholia', in General Psychological Theory: Papers on Metapsychology, pp.164-179. New York, Collier Books.
Green, D.(1994) 'Emergencias Sociales', Pichon Riviere Institute, Buenos Aires.
Hobfoll, S.E., et.al. (1991) 'War-related stress: Addressing the stress of war and other traumatic events'. American Psychologist, 46: 848-855.
Klingman, A. (1992 a) Psychological and Educational Intervention in Disaster. Jerusalem: Shefi, Ministry of Education. (Hebrew)
Klingman, A. (1992 b) The contribution of school mental health services to community-wide emergency reorganization and management during the 1991 Gulf War. School Psychology International, 13:195-206.
Lahad, M., & Cohen, A., Eds.(1988) Community Stress Prevention. Kiriat Shmona: The Community Stress Prevention Center.
Milgram, N.A., Toubiana, Y.H., Klingman,A., Raviv, A., & Goldstein, I.(1988) 'Situational exposure and personal loss in children's acute and chronic stress reactions to a school bus disaster.' Journal of Traumatic Stress, 1, 339-352.
Ofman, P.S., Mastria, M.A., & Steinberg, J. (1995) 'Mental health response to terrorism: The World Trade Center bombing'. Journal of Mental Health Counseling, 17: 312-320.
Solomon, Z. (1995) Coping with War-Induced Stress: The Gulf War and the Israeli Response. New York: Plenum Press.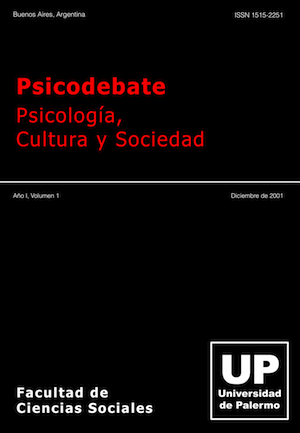 Cómo citar
Stein, B. (2001). Reacciones Comunitarias Frente A Situaciones De Desastre: Un Rol Emergente Para El Psicólogo Escolar. Psicodebate, 1, 93-105. https://doi.org/10.18682/pd.v1i0.526
Sección
Investigaciones Originales
Los autores/as que publiquen en esta revista ceden los derechos de autor y de publicación a Psicodebate y aceptan el registro de su trabajo bajo una licencia de atribución de Creative Commons, que permite a terceros utilizar lo publicado siempre que de el crédito pertinente a los autores y a Psicodebate