Experiencia de usuario positiva, durante el proceso de diseño de materiales y la influencia de los factores demográficos
Jimena Alarcón Castro

Jorge Lino Alves

Carla Silva
Palabras clave:
Diseño de experiencia ; Experiencia de Usuario ; Factor Demográfico ; Materiales Emergentes
Resumen
Este documento revela la influencia de factores demográficos en la percepción del usuario respecto de materiales emergentes confeccionados con desechos del sector manufacturas de productos plásticos. Como construcciones de experiencia positiva de usuario, en el estudio se adoptaron cinco atributos: ecológico, acogedor, atractivo, lujoso, confortable. Se identificaron relaciones centradas en la percepción usuaria y su origen demográfico. La metodología consideró el levantamiento de información, mediante un cuestionario auto-aplicado, con preguntas estructuradas con diferencial semántico. Un total de 46 personas participaron en el estudio. Los resultados indican que los atributos percibidos en cada uno de los prototipos de nuevos materiales, presentan diferencias significativas en términos de las valoraciones asociadas a su percepción. Las conclusiones están referidas a las implicancias de los factores demográficos para la práctica del diseño, cuyo conocimiento puede ayudar al proceso creativo, para una experiencia de usuario positiva.
Citas
Alarcón, J.; García-Alvarado, R.; Aguilar, H. & Sánchez-Friera, P. (2018). Diseñar el color de la eficiencia: Concentradores Solares Luminiscentes y aceptación usuaria. RChD: creación y pensamiento, 3(5).
Alarcón Castro, J.; Llorens Vargas, A. & Ormeño Bustos, G. (2019). Ingeniería kansei aplicada a un estudio referido a cinco maderas comerciales de Chile. Madera y bosques, 25(1).
Bedolla, D. (2003). Diseño sensorial. Las nuevas pautas para la innovación, especialización y personalización del producto. Tesis doctoral, Universidad Politécnica de Cataluña. Recuperado de http://www.tdx.cat/handle/10803/6826
Casais, M.; Mugge, R. & Desmet, P. M. A. (2015). Extending product life by introducing symbolic meaning: An exploration of design strategies to support subjective well-being. In Proceedings of the Conference on Product Lifetimes and The Environment (pp. 44-51). Nottingham, UK: Nottingham Trent University, CADBE.
Coughlin, J. F. (2007). Disruptive demographics, design, and the future of everyday environments. Design Management Review, 18(2), 53.
Crilly, N.; Moultrie, J. & Clarkson, P. J. (2004). Seeing things: consumer response to the visual domain in product design. Design Studies, 25(6), 547-577.
Desmet, P. &Hekkert, P. (2007). Framework of product experience. International journal of design, 1(1), 57-66. Desmet, P. M. & Pohlmeyer, A. E. (2013). Positive design: An introduction to design for subjective well-being. International journal of design, 7(3).
Desmet, P. & Hekkert, P. (2009). Design&Emotion. International Journal of Design 3(2, Special Issue Editorial), 1-6.
Desmet, P. M. A. & Sääksjärvi, M. C. (2016). Form matters: Design creativity in positive psychological interventions. Psychology of Well-Being: Theory, Research and Practice 6, 7. doi: 10.1186/s13612-016-0043-5.
Fenko, A.; Schifferstein, H. N. J. & Hekkert, P. (2008). Which senses dominate at different stages of product experience? Design Research Society Conference 2008. Sheffield Hallam University. Sheffield, RU. 289-302
Fenko, A.; Schifferstein, H. N. J. & Hekkert, P. (2011). Noisy products: Does appearance matter? International Journal of Design, 5(3): 77-87.
Fokkinga, S. & Desmet, P. (2012). Meaningful mix or tricky conflict? A categorization of mixed emotional experiences and their usefulness for design. Proceedings of 8th International Design and Emotion Conference London 2012 Central Saint Martins College of Art & Design, 11-14 September 2012.
Hassenzahl, M. (2010). Experience design: Technology for all the right reasons. San Rafael, CA: Morgan & Claypool Publishers.
Hassenzahl, M. (2007). The hedonic/pragmatic model of user experience. In E. Law, A. Vermeeren, M. Hassenzahl, & M. Blythe (Eds.), Towards a UX manifesto (pp. 10-14). Brussels, Belgium: COST.
Karana E.; Barati, B.; Rognoli, V. & Zeeuw van der Laan, A. (2015). Material Driven Design (MDD): A method to design for material experiences. International Journal of Design 19, n°2, pp. 35-54. http://resolver.tudelft.nl/uuid:7359026d-57f5-4f63-9835-126c5d23baed
Karana, E.; Pedgley, O. &Rognoli, V. (2015). On materials experience. Design Issues, 31(3), 16-27.
Kim, C. (2014). User characteristics and behaviour in operating annoying electronic products. International Journal of Design, 8(1), 93-108.
Kim, C. & Christiaans, H. (2016). The role of design properties and demographic factors in soft usability problems. Design Studies, 45, 268-290.
Kramer, J.; Noronha, S. & Vergo, J. (2000). A user-centred design approach to personalisation. Communications of the ACM, 43(8), 45-48.
Myerson, J.; Bichard, J. A. & Erlich, A. (2010). New demographics, new workspace: Office design for the changing workforce. Gower Publishing, Ltd.
Næs, T.; Lengard, V.; Johansen, S. B. & Hersleth, M. (2010). Alternative methods for combining design variables and consumer preference with information about attitudes and demographics in conjoint analysis. FoodQuality and Preference, 21(4), 368-378.
Nagamachi, M. (1995). Kansei engineering: A new ergonomic consumer-oriented technology for product development. International Journal Industrial Ergonomics 15, 3-11. doi. org/10.1016/0169-8141(94)00052-5.
Nagamachi, M. (Ed.). (2011). Kansei/Affective Engineering. Boca de Ratón: CRC Press, Taylor & Francis Group.
Prodintec. (2011). Diseño Afectivo e Ingeniería Kansei, Guía Metodológica. Gijón: Fundación Prodintec.
Rognoli, V. & García, C. A. (2018). Materia emocional. Los materiales en nuestra relación emocional con los objetos. RChD: creación y pensamiento, 3(4):1-12. doi:10.5354/0719- 837X.2018. 50297.
Özcan, E. & van Egmond, R. (2009). The effect of visual context on the identification of ambiguous environmental sounds. Acta Psychologica, 131(2), 110-119. doi: 10.1016/j. actpsy.2009.03.007
Schifferstein, H. N. J. (2006). The perceived importance of sensory modalities in product usage: a study of self-reports. Acta Psychologica, 121, 41-64. doi:10.1016/j.actpsy.2005.06.004
Spinuzzi, C. (2005). The methodology of participatory design. Technical Communication, 52(2), 163-174.
Tractinsky, A. S. & Katz, D. (2000). What is beautiful is usable. Interacting with Computers 13, 127-145.
Yang, B.; Liu, Y.; Liang, Y. & Tang, M. (2019). Exploiting user experience from online customer reviews for product design. International Journal of Information Management, 46, 173-186. https://doi.org/10.1016/j.ijinfomgt.2018.12.006
Yoon, J.; Kim, C. & Kang, R. (2020). Positive user experience over product usage life cycle and the influence of demographic factors. International Journal of Design, 14(2), 85-102.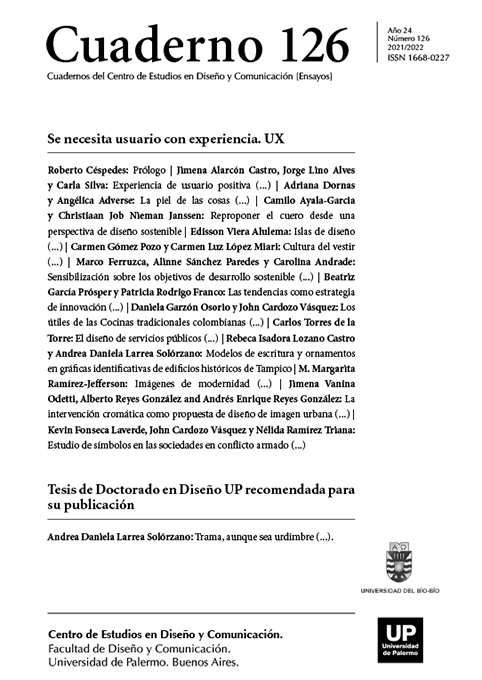 Cómo citar
Alarcón Castro, J., Lino Alves, J., & Silva, C. (2021). Experiencia de usuario positiva, durante el proceso de diseño de materiales y la influencia de los factores demográficos. Cuadernos Del Centro De Estudios De Diseño Y Comunicación, (126). https://doi.org/10.18682/cdc.vi126.4563
Los autores/as que publiquen en esta revista ceden los derechos de autor y de publicación a "Cuadernos del Centro de Estudios de Diseño y Comunicación", Aceptando el registro de su trabajo bajo una licencia de atribución de Creative Commons, que permite a terceros utilizar lo publicado siempre que de el crédito pertinente a los autores y a esta revista.