Emociones y Taller de escritura en adultos mayores sobrevivientes del Holocausto
Diego Borisonik

Universidad de Palermo
Palabras clave:
Escritura, Emociones Positivas, Tercera Edad
Resumen
La presente investigación tiene como objetivo evaluar y describir el tipo de emociones que surgen en el taller de escritura dictado en la Fundación Tzedaká, en adultos mayores de 73 años sobrevivientes del Holocausto, residentes en la Ciudad Autónoma de Buenos Aires. Para ello, los objetivos se han dividido en tres. Primero, describir las emociones que los participantes manifiestan experimentar antes, durante y después de escribir el relato; y al momento de compartirlo. Segundo, describir las emociones observadas en el momento en que se comparte el relato con el grupo que acude al taller. Y por ultimo, analizar las emociones que aparecen en el material escrito. Para llevar a cabo el presente estudio de tipo descriptivo se ha entrevistado a siete participantes, un hombre y seis mujeres, de nacionalidad polaca, rusa, francesa, lituana y alemana, de entre 73 y 92 años. Asimismo, se ha llevado a cabo la observación no participante en el taller de cada sujeto seleccionado; y el análisis de las emociones que surgen del escrito. El análisis de los datos obtenidos han demostrado que escribir y compartir el relato, sea cual fuere la temática y género, es beneficioso, generando emociones positivas en este grupo de personas de tercera edad, y más precisamente, sobrevivientes de situaciones altamente traumáticas. 
Descargas
La descarga de datos todavía no está disponible.
Citas
Bruder, M. (2000). El cuento y los afectos. Buenos Aires: Galerna.
Bruder, M. (2004). Implicancias del cuento terapéutico en el bienestar psicológico y sus correlatos. Tesis doctoral. Universidad de Palermo. Buenos Aires. Argentina.
Bruder, M. (2011). Escritura y cuento terapéutico. Buenos Aires: Hormé. Bruner, J. (1997). La Educación puerta de la cultura. Madrid: Aprendizaje Visor.
Castro Solano, A. (2010). Las Emociones Positivas: Fundamentos de la Psicología Positiva. Buenos Aires: Paidós.
Carstensen, L.L. (1993). Motivation for social contact across the life span: A theory of socioemotional selectivity. En J.E. Jacobs (Ed.): Nebraska Symposium on Motivation. Developmental Perspectives on Motivation. Vol. 40 (pp. 209-254). Lincoln: University of Nebraska Press.
Cartensen, L.L., Pasupathi, M., Mayr, U. y Nesselroade, J. (2000). Emotional Experience in everyday life across the adult life span. Journal of Personality and Social Psychology, 79, 644-655.
Charles, S.T., Mather, M. y Cartensen, L. L. (2007). Emotion regulation and aging. En J.J. Gross (Ed). Handbook of Emotion Regulation. Nueva York: Guilford Press.
Conde Sala, J. (2007). Psicogerontología postitiva: Cambios en las concepciones. Inter- psiquis 2007 (on line). Disponible en www.psiquiatria.com. Crawford, J. & Henry, J. (2004). The Positive and negative affect Schedule (PANAS): Construct validity, measurement properties and normative data in a large non-clinical simple. British Journal of clinical psychology, 43,245-265.
Danner, D.D., Snowdon, D.A. & Friesen, W.V (2001). Positive emotions in early life and longevity. Findings from the nun study. Journal of Personality and Social Psychology, 80(5),804-813.
De Salvo, L. (1999). Writing as a Way of Healing. Harper San Francisco. New York: A Division of Harpers Collins Publishers.
Ekman, P. (2003). Emotions revealed. Recognizing faces and feeling to improve communication and emotional life. Nueva York: Henry Holt.
Ekman, P. (1972). Universals and cultural differences in facial expressions of emotion. Nebraska symposium on motivation. Nebraska: University Of Nebraska Press.
Freeman, J., Epston, D. & Lobovits, D. (2001). Terapia narrativa para niños. Barcelona: Paidós.
Fernández-Abascal, M. Martín Díaz & J. Domínguez Sánchez (2001). Procesos Psicológicos. Madrid: Pirámide.
Fernández Ballesteros, R. (2008). El bienestar en los mayores. En C. Vázquez Valverde y G. Hervás Torres (Eds.) Psicología positiva aplicada. Madrid: Desclée de Brouwer. (pp. 371-399).
Fredrickson, B. L. (2000). Positive emotions. En C. R. Snyder y S. J. López (Eds.) Handbook of Positive Psychology. New York: Oxford University Press. (pp. 120-134).
Fredrickson, B. L. (2001). The role of positive emotions in positive psychology: The broaden –and-build theory of positive emotions. American Psychologist, 56, 218-226.
Gazt M., Kals-Godley, J. & Karel M. (1996). Aging and mental disorders. En Birren, J. & Schiane (Eds.). Handbook of psychology of aging. San Diego: Academic Press en Charles, S.T., Mather, M. y Cartensen, L. L. (2007). Emotion regulation and aging. En J.J. Gross (Ed). Handbook of Emotion Regulation. Nueva York: Guilford Press.
Giuliani, M. F. & Arias, C. J (2010) La afectividad en adultos jóvenes y adultos mayores de la ciudad de Mar del Plata: un estudio comparativo. II Congreso Internacional de Investigación y Práctica Profesional en Psicología, XVII Jornadas de Investigación y Sexto Encuentro de Investigadores en Psicología del MERCOSUR. Buenos Aires. V. 3, 91-93.
Gross, J.J. (1998). Antecedent-and response-focused emotion regulation: Divergent consequences for experience, expression, and psychology. Journal of personality and social psychology, 74, 224-237.
Gruhn, D, Kotter-Gruhn, D. & Rocke, C. (2010). Discrete affects across the adult life span: Evidence for multidimensionality and multidirectionality of affective experiences in young, middle-aged and older adults. Journal of research in personality. En prensa.
King, L. (2001). The health benefits of writing about life goals. Personality and Social Psychology Bulletin, 27, 798-807.
Márquez González, M., Fernández de Trocniz, M., Montorio Cerrato, I. & Losada Baltar (2008). Experiencia y regulación emocional a lo largo de la etapa adulta del ciclo vital: análisis comparativo en tres grupo de edad. Psicothema, 20 (4), 616-622.
Nye, E. F. (1997). Writing as healing. (writing improves mental health of HIV patients). Qualitative inquiry. 3 (4) 439-452.
Pennebaker, J. W. (1997). El arte de confiar en los demás. Alianza: Buenos Aires. Pennebaker, J. W. & Segal J. D. (1999). Forming a Story: The health benefits of narrative. Journal of Clinical Psychology, 5, 1243-1254.
Pressman, S.D. & Cohen S., S. (2005). Does positive affect influence health? Psychological Bulletin, 131, 325-971.
Vázquez, C., Hernangomez, L. & Hervás, G. (2003). Longevidad y emociones positivas. En L. Salvador, A. Con, J.R. Cabo y F. Alonso (Dir.): Longevidad y vida saludable. Madrid: AECES.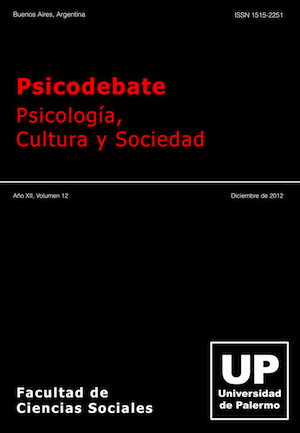 Cómo citar
Borisonik, D. (2012). Emociones y Taller de escritura en adultos mayores sobrevivientes del Holocausto. Psicodebate, 12, 23-38. https://doi.org/10.18682/pd.v12i0.365
Sección
Investigaciones Originales
Los autores/as que publiquen en esta revista ceden los derechos de autor y de publicación a Psicodebate y aceptan el registro de su trabajo bajo una licencia de atribución de Creative Commons, que permite a terceros utilizar lo publicado siempre que de el crédito pertinente a los autores y a Psicodebate