El valor del humor en el proceso psicoterapéutico
Liliana Chazenbalk

Universidad de Palermo
Palabras clave:
Terapia Cognitiva, Psicología Positiva, Resiliencia, Estrés, Humor
Resumen
El tema central de este trabajo apunta a demostrar como el humor abordado adecuadamente, incide favorablemente; en el paciente, en el self del terapeuta, favorece la alianza entre ambos y actúa positivamente en las reuniones de equipo y supervisión. Es de gran valor para los profesionales contar con espacios de humor, recreación y descanso, ya que estos ingredientes producen distensión y mayor efectividad en el proceso de psicoterapia. La mayoría de las escuelas psicológicas acuerdan en su importancia. Desde el enfoque cognitivo el humor ayuda a que el paciente perciba la realidad de un modo diferente, interrumpa los pensamientos disfuncionales, exprese sus emociones negativas y encuentre patrones más adaptativos. 
Citas
Beck, A.; Rush, J.; Shaw, B.; Emery, G.(1986) Terapia cognitiva de la depresión. Bilbao: Desclée De Brouwer.
Berger, P. (1998) Risa redentora. Barcelona: Kairós.
Bergman, J. (2003) Pescando Barracudas. Buenos Aires: Paidós. Bergson, H. (1940) La risa. Madrid: Espasa Calpe.
Buckman, E. (1980) The use of humor in psychotherapy. Doctoral dissertation, Boston University School of Education.
Camacho, J. (2004) Fidelidad e infidelidad en las relaciones de pareja. Buenos Aires: Dunken.
Chazenbalk, L. (1998) Psicología cognitive, infoque teórico practico. Buenos Aires: Ecua.
Chazenbalk, L (2003) El self del terapeuta en Psicodebate 3, Psicología cultura y sociedad. Facultad de Humanidades y Ciencias Sociales Universidad de Palermo. Bs. As. Argentina.
Cayssials, A. (2004) Trabajo de investigación. Los sentidos del Humor. Facultad de Psicología UBA.
Cyrulnik B., y otros eds. (2004) El surgimiento del concepto en El realismo de la esperanza. Madrid: Gedisa.
Dimmer, S; Carroll J; Wyatt, G. (1990) Uses of humor in psychotherapy. Psychological Reports.
Ellis, A; Grieger, R (1981). Manual de terapia racional – emotiva. Bilbao: Desclée De Brouwer.
Erickson, M. (1992) El hombre de febrero. Buenos Aires: Amorrortu.
Frankl, V (1979) El hombre en busca de sentido. Barcelona: Herder.
Frankl, V. (1987) Ante el vacío existencial. Barcelona: Herder.
Friedman y Kaslow (1974) Type A behavior and your heart. New York: Knopf.
Goldstein, J. y McGhee, P.(1972) The psychology of humor. New York: Academic.
Gordon, D. y Anderson, M.M. (1996) Is humor only fun, an alternative cure of magic: The curative potential of humor. Journal of Cognitive psychotherapy.
Henderson N., Milstein M., (2003) Resiliencia en la escuela. Buenos Aires: Paidós. Herbert M Lefcourt. (2000) Humor. Part VIII. Specific Coping Approaches (pp.620-621)
Holden, R. (1998) La risa la mejor medicina. Barcelona: Oniro.
Idígoras, Á. (2002) El valor terapéutico del humor. Bilbao: Desclée De Brouwer.
Killinger, B. (1978) A phenomenological investigation of humor in psychotherapy. Dissertation, University of Tennessee.
López Rossetti, D. (2001) Estrés. Buenos Aires: Lumen.
Madanes, C. (1987) Humor in Strategic Family Therapy en Fry W. y Salameh A. (Eds.) Handbook of Humor and psychotherapy: Advances in the Clinical Use of Humor. Sarasota. FL: Professional Resource Exchange.
Moody, R. (2002) El poder curativo de la risa. Madrid: Edaf.
Navas J. (1999) Perspectiva sobre el uso del humor en la psicoterapia y en las terapias conductuales cognoscitivas. Aprendizaje y comportamiento. Servicio Psicológico Profesional. San Juan de Puerto Rico.
O'Hanlon, W. (1998) Raíces Profundas. Principios Básicos de la Terapia de la Hipnosis de Milton Erickson.
Pollock, J. (2003) ¿Qué es el humor? Buenos Aires: Paidós.
Resenheim. G. (1986) Patients reactions to humorous interventions in psychotherapy. American Journal Psychotherapy.
Salameh W. and Fry W (2001) Humor and Wellness in Clinical Intervention. Londres: Praeger.
Seligman, M. (2003) La Autentica Felicidad. Buenos Aires: Vergara.
Ventis, W. (1988) Guidelines for using humor in therapy with children and young adolescents. Journal of Children in Contemporary Society.
Weiss, H. (1984) Humor and imagination. Hakomi: Forum Summer.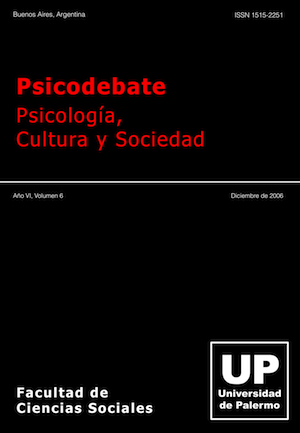 Cómo citar
Chazenbalk, L. (2006). El valor del humor en el proceso psicoterapéutico. Psicodebate, 6, 73-84. https://doi.org/10.18682/pd.v6i0.442
Sección
Investigaciones Originales
Los autores/as que publiquen en esta revista ceden los derechos de autor y de publicación a Psicodebate y aceptan el registro de su trabajo bajo una licencia de atribución de Creative Commons, que permite a terceros utilizar lo publicado siempre que de el crédito pertinente a los autores y a Psicodebate