The good society: defining and measuring wellbeing. Between complexity and limit
Filomena Maggino

Universitá degli studi di Firenze (Italia)
Palabras clave:
Medición, Bienestar, Indicadores, Buena sociedad, Measure, Wellbeing, Indicators, Good Society
Resumen
Investigadores de todo el mundo han dedicado años y se encuentran trabajando activamente en la definición de conceptos y medidas acerca del bienestar. En algunos casos el debate se simplificó a partir de la pregunta si un indicador podía reemplazar al PBI. En este sentido y para definir que es una "Buena sociedad" (Good society) es necesario tener en cuenta dos conceptos: complejidad y limite. El debate en relación a esta definición data de Aristoteles y resultaría imposible poder revisar todas las definiciones que se han intentado. En este artículo se intenta proveer una interpretación acerca de los instrumentos que se han utilizado a fin de ayudar a la diferenciación entre las propuestas emergentes serías y las meramente propagandísticas.
Descargas
La descarga de datos todavía no está disponible.
Citas
Berger-Schmitt, R. and Noll, H.-H. (2000) Conceptual Framework and Structure of a European System of Social Indicators, EuReporting Working Paper No. 9, Centre for Survey Research and Methodology (ZUMA) – Social Indicators Department, Mannheim.
Diener, E., Suh, E. (1997) Measuring quality of life: economic, social, and subjective indicators, Social Indicators Research, vol. 40, pp. 189–216.
Eurostat (2000) Definition of quality in statistics and Standard quality report, Eurostat.
Felce, D.; Perry, J. (1995). Quality of Life: Its Definition and Measurement. Research in Developmental Disabilities, 16 (1), pp. 51-74
Horn, R.V., (1993) Statistical Indicators, Cambridge University Press, Cambridge.
Johansson, S. (2002). Conceptualizing and Measuring Quality of Life for National Policy. Social Indicators Research, 58, pp. 13-32.
Maggino, F. (2009) The state of the art in indicators construction in the perspective of a comprehensive approach in measuring well-being of societies, Firenze University Press, Archivio E-Prints, Firenze.
Maggino, F.; Ruviglioni, E. (2011) Preaching to the Choir: Are the Commission's Recommendations Already Applied?. Social Indicators Research, Vol. 102, Issue 1, pp. 131-156.
Nuvolati, G. (1997). Uno specifico settore di applicazione degli indicatori sociali: La qualità della vita. In: Zajczyk F. Il mondo degli indicatori sociali, una guida alla ricerca sulla qualità della vita. La Nuova Italia Scientifica, Roma, pp. 69-94.
Patel, S.; M. Hiraga, and Wang, L. (World Bank) D. Drew and D. Lynd (Unesco) (2003) A Framework for Assessing the Quality of Education Statistics, World Bank – Development Data Group and UNESCO – Institute for Statistics.
Sirgy M.J. (2011) Theoretical Perspectives Guiding QoL Indicators Project, Social Indicators Research, vol. 103, pp.1–22. Sirgy, M.J.: A.C. Michalos, A.L. Ferriss, R.A. Easterlin,
D. Patrick and W. Pavot (2006) The Quality-of-Life (QOL) Research Movement: Past, Present, and Future, Social Indicators Research, vol. 76, n.3, pp. 343-466.
Stiglitz, J. E.; Sen, A. & J.-P. Fitoussi eds (2009) Report by the Commission on the Measurement of Economic Performance and Social Progress, Paris. http://www.stiglitz-sen-fitoussi.fr/en/index.htm
Zapf, W. (1975) Le système d'indicateurs sociaux:
approches et problèmes, Revue Internationale des Sciences Sociales, Vol. XXVII, n. 3.
Zapf, W. (1984) Individuelle Wohlfahrt: Lebensbedingungen und Wahrgenommene Lebensqualität, in W.Glatzer e Zapf W. (eds.) Lebensqualität in der Bundesrepublik, Frankfurt a. M. – New York, Campus, pp. 13-26.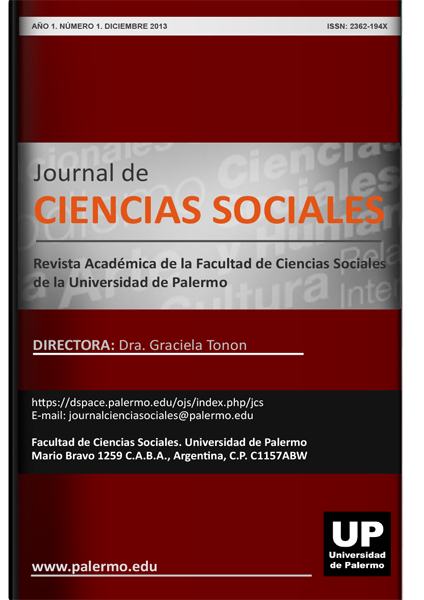 Cómo citar
Maggino, F. (2013). The good society: defining and measuring wellbeing. Between complexity and limit. Journal De Ciencias Sociales, (1). https://doi.org/10.18682/jcs.v0i1.148