Introducción a la Sección Política Internacional
Lia Rodriguez de la Vega

Universidad de Palermo / Universidad Nacional de Lomas de Zamora
Descargas
La descarga de datos todavía no está disponible.
Citas
Bidart Campos, G. (1985). El poder. Buenos Aires: Ediar.
Carlsnaes, W; Risse, Th. & Simmons, B. A. (Eds.) (2002). Handbook of International Relations. London: Sage.
Diez de Velazco, M. (2007). Las Organizaciones Internacionales. Madrid: Tecnos.
Gutiérrez-Solana Journoud, A. (2014). La legitimidad social de las organizaciones internacionales. Madrid: Marcial Pons, Ediciones Jurídicas y Sociales, S.A.
Riskas, K. (2019). The Indian Ocean's Great Disappearing Garbage Patch. Hakai magazine. Coastal sciences and societies (January 19). Recuperado de https://www.hakaimagazine.com/news/the-indian-oceans-great-disappearing-garbage-patch/
Roy, A. (2019). Blue Economy in the Indian Ocean: Governance Perspectives for Sustainable Development in the Region. ORF Occasional Paper 181. New Delhi: Observer Research Foundation. Recuperado de https://www.orfonline.org/wp-content/uploads/2019/01/ORF_Occasional_Paper_181_Blue_Economy.pdf
Saify, T. y Chaghtai, S. A. (1988). Sources of Pollution in Indian Ocean - Risk & Management. En BockholtsI, P & Heidebrink, I. (eds.). Chemical Spills and Emergency Management at Sea (pp. 479-488). Dordrecht: Kluwer Academic Publishers.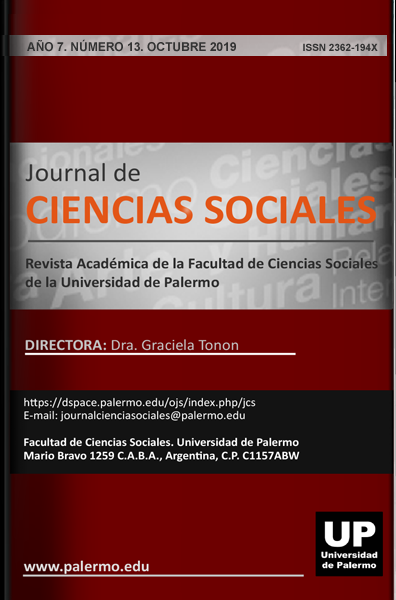 Cómo citar
Rodriguez de la Vega, L. (2019). Introducción a la Sección Política Internacional. Journal De Ciencias Sociales, (13). Recuperado a partir de https://dspace.palermo.edu/ojs/index.php/jcs/article/view/1744
Sección
Política Internacional