The Middle Way Getting Its Way
Ana Paula Martins Gouveia

University of California
Resumen
Nāgārjuna: "Versos Fundamentais do Caminho do Meio" (Mūlamadhyamakakārikā), tradução, comentários e notas de Giuseppe Ferraro (UFMG). Campinas: Editora Phi. 684 pp. 2016.  ISBN: 9788566045338
Descargas
La descarga de datos todavía no está disponible.
Citas
De Jong, J. W. (1977). Mūlamadhyamakakārikā prajñā nāma. Adyar, Chennai: The Adyar Library and Research Centre, The Theosophical Society.
De La Vallée Poussin, L.(2013) Mūlamadhyamakakārikās (Mādhyamikasūtras) de Nāgārjuna avec la Prasannapadā Commentaire de Candrakīrti. St. Petersburg: Bibliotheca Buddhica IV.
Garfield, J. (1995). The Fundamental Wisdom of the Middle Way. Nāgārjuna´s Mūlamadhyamakakārikā. Oxford, New York: Oxford University Press.
MacDonald, A. (2007). "Revisiting the Mūlamadhyamakakārikā: Text-Critical Proposals and Problems". Studies in Indian Philosophy and Buddhism, 14, pp. 25-55.
MacDonald (2015). "Review Article: The Quest for an English-speaking Nāgārjuna". Indo- Iranian Journal, 58, pp. 357-375.
Mercier, H &Sperber, D. (2017). The Enigna of Reason. USA: Harvard University Press (in press).
Nāgārjuna. The Root Stanzas on the Middle Way. France: Éditions Padmakara, 2008.
Pandeya, R. (1989). The Madhyamakaśāstram of Nāgārjuna, with the Commentaries Akutobhayāby Nāgārjuna, Madhyamakavṛtti by Buddhapālita, Prajñāpradīpavṛtti by Bhāvaviveka, Prasannapadāvṛtti by Candrakīrti, critically reconstructed. Delhi: Motilal Banarsidass.
Said, E. W. Orientalism (1979). New York: Random House Inc. (vintage books edition).
Saito, A. (1985). "Textcritical Remarks on the Mūlamadhyamaka-kārikā as Cited in the Prasannapadā". Journal of Indian & Buddhist Studies (IndobukkyogakuKenkyu), 33.2, pp. 24-28.
Siderits, M. &Katsura, S. (2013). Nāgārjuna's Middle Way: Mūlamadhyamakakārikā. Boston: Wisdom Publications.
Vaidya, P. L. (1960) Madhyamakaśāstra of Nāgārjuna with the Commentary: Prasannapadā by Candrakīrti. Darbhanga: The Mithala Institute, 1960.
Ye, S. (2007). "A Re-examination of the Mūlamadhyama-kakārikāon the Basis of the Newly Identified Sanskrit Manuscripts from Tibet". AnnualReport of the International Research Institute forAdvancedBuddhology at Soka University 10, pp. 149-170.
Ye, S. (2011) Nāgārjuna, Mūlamadhyamakakārikā. New Editions of the Sanskrit, Tibetan and Chinese Versions, with Commentary and a Modern Chinese Translation. Shanghai: Zhongxi Book Company.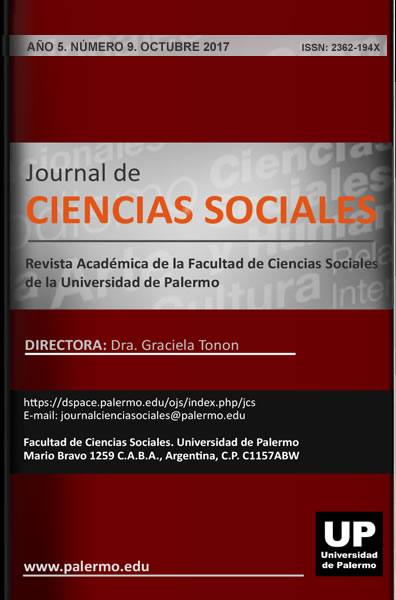 Cómo citar
Martins Gouveia, A. P. (2017). The Middle Way Getting Its Way. Journal De Ciencias Sociales, (9). https://doi.org/10.18682/jcs.v0i9.734
Sección
Reseña y Rescate de Libros