Representatividad política de las mujeres en India
Sabrina Victoria Olivera

Universidad de Buenos Aires, Universidad del Salvador, Universidad Nacional de Tres de Febrero, Consejo Argentino para las Relaciones Internacionales
Palabras clave:
India, política, representatividad, mujeres
Resumen
El presente artículo tiene por objetivo dar cuenta de las implicancias del actuar de las mujeres de India en la arena política del país. Para ello, se describió el estado de situación actual en la región de Asia del Sur y se abordaron los antecedentes en la historia de India sobre la participación de las mujeres. La historia revela que las mujeres tuvieron un rol importante en la lucha por la Independencia y, tres décadas después de ser una nación libre, su Primer Ministro fue mujer, Indira Gandhi. Sin embargo, la participación de ellas continuó siendo baja, dado que la dominación masculina predominó en el sector político. Seguidamente, se analizaron los fundamentos y las exigencias impuestas en la Constitución Nacional del país que establecieron una discriminación positiva o cupos a fin de propiciar el involucramiento de las mujeres en los Consejos Locales o Panchayats. Finalmente, se discutió si las normativas legales lograron su cometido en cuanto a participación política de las mujeres o si aún persisten dificultades u obstáculos que impiden esta condición. En efecto, el proyecto de ley que propone la reserva de escaños para mujeres en los niveles estatal y nacional, que fue presentado en el año 1996, aún persiste sin ser aprobado. Para la elaboración del presente trabajo, se empleó la técnica consistente en el análisis de documentos, registros y material oficial y público, documentos organizacionales, intercambios académicos e informes gubernamentales. 
Descargas
La descarga de datos todavía no está disponible.
Citas
Aruna, C. (2018). Does Social Capital Make a Difference for Dalit Women Representatives in Local Self Governance? Contemporary Voice of Dalit, 10 (1), 59-66.
Asmat, S. y Devi, C. (2016). Empowerment of Women. New Delgi: Mittal Publications.
Bharathi, R. y Badiger, C. (2008). Impact of National Agricultural Technology Project on Empowerment of Women in Agriculture through Self Help Groups. Karnataka Journal of Agricultural Sciences, 21(4), 561-564.
Broockman, D. E. (2014). Do female politicians empower women to vote or run for office? A regression discontinuity approach. Electoral Studies, 34, 190-204.
Chaudhary, A. (2012). Empowerment of Rural Women. Issues and Opportunities. New Delhi: Akhand Publishing House.
Clots-Figueras, I. (2011). Women in politics: Evidence from the Indian States. Journal of public Economics, 95 (7-8), 664-690.
Deininger, K., Jin, S. y Nagarajan, H. (2012). Can Political Reservation Improve Female Empowerment? Evidence from Local Panchayat Elections in Rural India. NCAER Working Papers on Decentralisation and Rural Governance in India (January), 1.
Deo, N. (2012). Running from elections: Indian feminism and electoral politics. India Review, 11(1), 46-64.
Devika, J. (2016). The 'Kudumbashree Woman'and the Kerala Model Woman: Women and Politics in Contemporary Kerala. Indian Journal of Gender Studies, 23(3), 393-414.
Duverger, M. (1988). Métodos de las ciencias sociales. México: Editorial Ariel.
Ghosh, R., Chakravarti, P., & Mansi, K. (2015). Women's empowerment and education: Panchayats and women's Self-help Groups in India. Policy Futures in Education, 13(3), 294-314.
Gibson, C. (2012). Making redistributive direct democracy matter: development and women's participation in the Gram Sabhas of Kerala, India. American Sociological Review, 77(3), 409-434.
Jensenius, F. R. (2016). Competing inequalities? On the intersection of gender and ethnicity in candidate nominations in Indian elections. Government and Opposition, 51 (3), 440-463.
Kalita, J. (2016). Representation of women in politics: a need for national development. The Clarion, 5(2), 54-58.
Kaushik, A. & Shaktawat, G. (2010). Women in Panchayati Raj Institutions: A Case Study of Chittorgarh District Council. Journal of Developing Societies, 26(4), 473-483.
Lal, D., Ojha A., & Sabharwal, N. S. (2015). Issues of under-representation: Mapping women in Indian politics. Journal of South Asian Studies, 3(1), 93-102.
Manier, B. (2013). El despertar de las mujeres. En J. Natanson (comp.), Explorador Le Monde Diplomatique: India (pp. 35-37). Buenos Aires: Capital Intelectual.
Naveed, S. y Butt, K. M. (2015). Causes and consequences of child marriages in South Asia: Pakistan's perspective. South Asian Studies, 30 (2), 161-175.
Priebe, J. (2017). Political reservation and female empowerment: evidence from Maharashtra, India. Oxford Development Studies, 45 (4), 499-521.
Pujari, M.D. (2012). Women empowerment in India. Online International interdisciplinary Research Journal, (Mar-Apr. 2012) (Bi – Monthly), 2 (2), 210-219.
Rai, P. (2017). Women's Participation in Electoral Politics in India: Silent Feminisation. South Asia Research, 37(1), 58-77.
Sen, A. (2005). India contemporánea. Entre la modernidad y la tradición. Barcelona: Editorial Gedisa.
Sharma, P. y Varma, S. (2008). Women empowerment through entrepreneurial activities of Self Help Groups. Indian Research Journal of Extension Education, (January), 8(1), 46-51.
Taylor, S. y Bogdan, R. (1994). Introducción a los métodos cualitativos de investigación. La búsqueda de significados. Madrid: Paidós Básica.
Thomas, S. P. (2017). The Elected Women Representatives of the Kerala Grama Panchayat Elections. Rajagiri Journal of Social Development, 9(2), 147-160.
Uribe Urán, A. (2014). Percepción del enfoque gerencial y del modelo de acreditación por alta calidad aplicado en universidades colombianas. Cuadernos de Administración (Universidad del Valle), (Jun 2014), 30 (51), 49-56.
Otros documentos consultados
Asociación del Sur de Asia para la Cooperación Regional (SAARC) (2014). Best Practices in poverty alleviation in South Asia: a compendium. URL en: http://saarc-sec.org/download/publications/Compendium_on_Best_Practices_(Published_copy)_20150422114417.pdf. Accedido por última vez en fecha 05/07/2018.
MOSPI (2017). India Country Report SAARC Development Goals 2017. URL en: http://mospi.gov.in/sites/default/files/publication_reports/Saarc%20Development%20goals%20mail.pdf. Accedido por última vez en fecha 15/10/2019.
ONU Mujeres (2011/2012). Progress of the World's Women. In pursuit of Justice.
Portal Nacional de India. Disponible en https://www.india.gov.in. Accedido por última vez en fecha 10/08/2018.
Reporte "Hacia la igualdad" (Towards Equality). URL en: https://indianculturalforum.in/2017/03/08/towards-equality-report-of-the-committee-on-status-of-women-in-india-1974-part-i/. Accedido por última vez en fecha 15/10/2019.
Reportes de la República de India sobre Objetivos de Desarrollo del Milenio correspondientes a los años 2005, 2007, 2009, 2011, 2014, 2015 y final. URL en: https://www.in.undp.org/content/india/en/home/post-2015/mdgoverview.html. Accedido por última vez en fecha 15/10/2019.
World Economic Forum (2018). India's women are the secret to a potential economic boom. URL en: https://www.weforum.org/agenda/2018/07/india-could-boost-its-gdp-by-770-billion-by-just-treating-women-better. Accedido por última vez en fecha 16/07/2018.
World Economic Forum. Informe de Brecha de Género 2017. URL en https://www.weforum.org/reports/the-global-gender-gap-report-2017. Accedido por última vez en fecha 15/10/2019.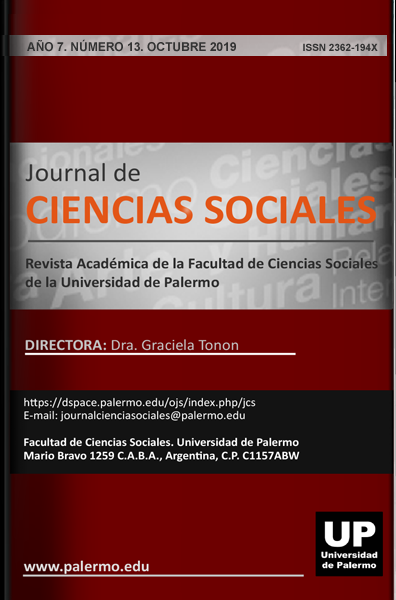 Cómo citar
Olivera, S. V. (2019). Representatividad política de las mujeres en India. Journal De Ciencias Sociales, (13). https://doi.org/10.18682/jcs.vi13.884