Maldivas y el delicado equilibrio entre India y China
Matías Iglesias

Universidad de Palermo
Palabras clave:
Maldivas, India, China, océano Índico
Resumen
Maldivas es la nación más pequeña de Asia Meridional en términos de población, superficie y PBI. A pesar de ello, este pequeño archipiélago tiene una gran importancia estratégica, en virtud de su ubicación en medio de las rutas marítimas internacionales del océano Índico, y en su cercanía a las costas de la India. La propuesta de este artículo es exponer los cambios que se produjeron en Maldivas durante la presidencia de Abdulla Yameen en cuanto a la política interna, como así también a las relaciones exteriores, y observar en qué momento estas dos tendencias se cruzan para formar parte de una misma trama. A su vez, analizar finalmente las consecuencias que esto tiene para el país y para la región del Océano Índico. Numerosos observadores destacan que desde la llegada al poder de Abdulla Yameen la política interna está signada por el deterioro de la joven democracia de Maldivas. Al mismo tiempo, el presidente Yameen ha estrechado fuertes lazos políticos y económicos con la República Popular China. La convergencia de estas dos tendencias se produjo a principios de 2018, cuando la crisis política en Maldivas y la declaración del estado de emergencia dio lugar a especulaciones sobre una posible intervención militar por parte de India. Rápidamente China se posicionó en contra de tal posibilidad en nombre de la soberanía y la no injerencia. La situación de Maldivas representa un desafío grave para la India, puesto que abre la posibilidad para una futura base naval china en el archipiélago, a pocas millas de sus propias costas. La regresión democrática, además, es en sí misma un desafío para el estatus y la credibilidad de India frente a los otros Estados de su vecindario.
Descargas
La descarga de datos todavía no está disponible.
Citas
Oliva, C. (2008). Identidad y fuerzas profundas en China. La influencia de la experiencia histórica en la formulación de la política exterior. En A. Busso (Comp.). Fuerzas profundas e identidad. Reflexiones en torno a su impacto sobre la política exterior. Un recorrido de casos. (pp. 250-267). Rosario: UNR Editora, e-book. Disponible en: https://rephip.unr.edu.ar/bitstream/handle/2133/2578/Fuerzas_Profundas_e_Identidad_-_tomo_I.pdf?sequence=1&isAllowed=y
Otros documentos consultados:
Blomqvist, O. (2018). Democracy on the Brink in Maldives. The Diplomat (9 de febrero). Recuperado de: https://thediplomat.com/2018/02/democracy-on-the-brink-in-maldives/
Dhar, D. (2018). The Maldives Crisis Presents a Window of Opportunity for India. The Diplomat (25 de febrero). Recuperado de: https://thediplomat.com/2018/02/the-maldives-crisis-presents-a-window-of-opportunity-for-india/
Green, M. J. (2018). Foreword: China's Maritime Silk Road. En N, Szechenyi (Ed.). China's Maritime Silk Road. Strategic and Economic Implications for the Indo-Pacific Region. CSIS (Marzo). Washington: CSIS.
Human Rights Watch (2018). "An All-Out Assault on Democracy" Crushing Dissent in the Maldives. Disponible en: https://www.hrw.org/sites/default/files/report_pdf/maldives0818_web2.pdf
Kabir, A. (2018). The Maldives Crisis: Will India Intervene? The Diplomat (27 de febrero). Recuperado de https://thediplomat.com/2018/02/the-maldives-crisis-will-india-intervene/
Kaplan, R. D. (2010). Monsoon. The Indian Ocean and the Future of American Power. Nueva York: Random House.
Kumar, S. (2015). "This Will Make the Country a Chinese Colony". The Diplomat (25 de julio). Recuperado de: https://thediplomat.com/2015/07/this-will-make-the-country-a-chinese-colony/
Maldives Independent (2018). Indian MP provokes outrage with call to invade Maldives (25 de Agosto). Recuperado de: https://maldivesindependent.com/politics/indian-mp-provokes-outrage-with-call-to-invade-maldives-140506
Mohamed, A. (2016). Why Maldives left the Commonwealth. Indian Express (29 de octubre). Recuperado de: https://indianexpress.com/article/opinion/columns/why-maldives-left/
Olazábal, V. (2016). Maldivas dice adiós a la Commonwealth. El Mundo (14 de octubre). Recuperado de: http://www.elmundo.es/internacional/2016/10/14/5800b7cc268e3ebc518b4586.html
Panda, A. (2018). A Political Crisis Deepens in the Maldives: The Geopolitical Stakes for India and its Options. The Diplomat (6 de febrero). Recuperado de: https://thediplomat.com/2018/02/a-political-crisis-deepens-in-the-maldives-the-geopolitical-stakes-for-india-and-its-options/
Pant, H. V. (2018). Trouble in Paradise: How India Can Responded to the Crisis in the Maldives. The Diplomat (7 de febrero). Recuperado de: https://thediplomat.com/2018/02/trouble-in-paradise-how-india-can-respond-to-the-crisis-in-the-maldives/
Pararajasingham, A. (2017). India's Regional Power Credentials Under Threat by China. The Diplomat (24 de noviembre). Recuperado de: https://thediplomat.com/2017/11/indias-regional-power-credentials-under-threat-by-china/
Radhakrishnan, T. (2016). Maldives' Democracy is Dying. The Diplomat (23 de septiembre). Recuperado de: https://thediplomat.com/2016/09/maldives-democracy-is-dying/
Rajagopalan, R. P. (2018). India's Maldives Headache. The Diplomat (23 de febrero). Recuperado de: https://thediplomat.com/2018/02/indias-maldives-headache/
Ramachandran, S. (2018a). The China-Maldives Connection. The Diplomat (25 de enero). Recuperado de: https://thediplomat.com/2018/01/the-china-maldives-connection/
Ramachandran, S. (2018b). India and the Maldives Emergency. The Diplomat (8 de febrero). Recuperado de: https://thediplomat.com/2018/02/india-and-the-maldives-emergency/
Reddy, M. (2009). Maldives cabinet to meet underwater to highlight perils of climate change. The Hindu (17 de octubre). Recuperado de: https://www.thehindu.com/news/international/Maldives-cabinet-to-meet-underwater-to-highlight-perils-of-climate-change/article16887202.ece
Safi, M. (2016). Maldives quits Commonwealth over alleged rights abuses. The Guardian (13 de octubre). Recuperado de: https://www.theguardian.com/world/2016/oct/13/maldives-quits-commonwealth-over-alleged-rights-abuses
Singh, S. (s.f.). Security Outlook of Indian Ocean and India's Geostrategic interest in the IOR. India Foundation. Recuperado de: http://www.indiafoundation.in/security-outlook-of-indian-ocean-and-indias-geostrategic-interest-in-the-ior-by-siddharth-singh/
Tiezzi, S. (2018). China to India: Respect Maldives' Sovereignty. The Diplomat (8 de febrero). Recuperado de: https://thediplomat.com/2018/02/china-to-india-respect-maldives-sovereignty/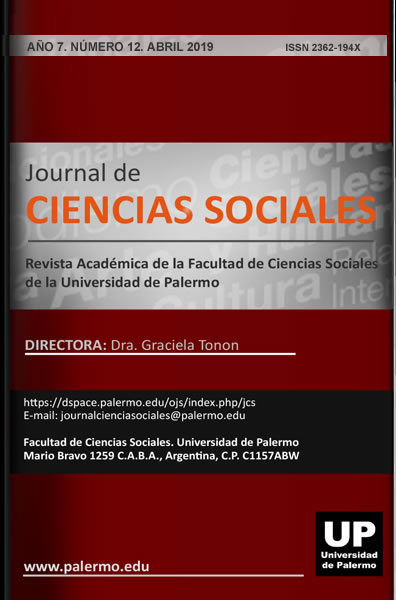 Cómo citar
Iglesias, M. (2019). Maldivas y el delicado equilibrio entre India y China. Journal De Ciencias Sociales, (12). https://doi.org/10.18682/jcs.v0i12.886