Castas: Identidades que atraviesan fronteras
Nora Lucia Ibarra

Universidad de Buenos Aires
Palabras clave:
identidades, castas, discriminación, estratificación social
Resumen
El siguiente trabajo pretende visibilizar distintas maneras de concebir a las castas en India y, en particular, a la discriminación en base a ellas. Para ello se procede a problematizar nociones teóricas acerca del sistema de castas, planteando interrogantes sobre los modos en los que las identidades de castas son vividas y concebidas hoy. La existencia de un único sistema de castas vigente desde épocas védicas, la noción de un fenómeno único y exclusivo de la India y la idea de castas como identidades estáticas e inmodificables son algunas de las fronteras que se buscan atravesar. La homologación entre la discriminación racial y la discriminación en base a las castas será uno de los debates en los que más se ahondará. Lejos de ser cuestiones meramente teóricas, se verá cómo la definición que se adopte sobre la naturaleza de la discriminación en base a casta podría ser utilizada como fundamento para forjar políticas públicas desde organismos internacionales hacia India y otros países surasiáticos, como así también en el territorio del Reino Unido, referentes a la diáspora. El accionar de organizaciones internacionales, tales como la International Dalit Solidarity Network y la WCAR, serán actores e instancias claves en tales disputas, presentando diferentes estrategias de combate a esta discriminación.
Descargas
La descarga de datos todavía no está disponible.
Citas
Banerjee, I. (2008). ¿Existe un sistema de castas? Estudios de Asia y África, XLIII, 2, 325-382.
Chahal, C. (2008). The Evil of Caste: The Caste system as the largest systemic violation of Human's Rights in Todays World [Reporte de la FABO, The Federation of Ambedkarite and Buddhist Organizations UK[. Recuperado de http://ambedkar.nspire.in/The%20Evil%20of%20Caste%20by%20Chanan%20Chahal.html
Chatterjee P (2008). La nación en tiempo heterogéneo, y otros estudios subalternos. Buenos Aires: Siglo XXI Editores.
Devalle, S (2002). Compiladora y Autora. Identidad y Etnicidad: continuidad y cambio. México DF: El Colegio de México- Centro de estudios de Asia y África.
Foucault, M (1996). Genealogía del Racismo. Buenos Aires: Editorial Altamira.
Fraisse, G. (2011). Del Consentimiento. Santiago: Editorial Palinodia.
Ganguly, D. (2005). Caste, colonialism and counter-modernity: Notes on a poscolonial hermeneutics of caste. New York: Routhledge.
Gupta, D. (Ed.) (2004). Caste in question: identity or hierarchy?. New Delhi: Sage.
Gupta, D. (2005). Caste and politics: identity over system. Annual Review of Anthropology, 21, 409-427.
Ibarra, N.L. y Navarro, L. (2013). Ser Dalit: identidades políticas, sistema de castas y racismo, en la India actual. VII Jornadas de Jóvenes Investigadores. Instituto de Investigaciones Gino Germani, Facultad de Ciencias Sociales, Universidad de Buenos Aires, Buenos Aires. Recuperado en: https://www.aacademica.org/000-076/17.pdf
Khilnani, S. (2004). The idea of India. London: Penguin Books.
Pinto, A. (2001). UN Conference against Racism: Is caste race? Economic and Political W eekly, 36(30), 2817-2820.
Visvanathan, S. (2001). The Race for Caste: Prolegomena to the Durban Conference. Economic and Political Weekly, 36 (27), 2512-2516.
Documentos consultados
Diarios y revistas
Beteille, A (2001, 10 de marzo). Race and caste. The Hindu. Recuperado de http://hindu.com/2001/03/10/stories/05102523.htm
Gupta, D. (2001, 19 de agosto). Caste is not Race: But, Let's Go to the UN Forum Anyway. The Times of India. Recuperado de http://timesofindia.indiatimes.com/edit-page/Caste-is-not-RacebrBut-Lets-Go-to-the-UN-Forum-Anyway/articleshow/1229264687.cms
Kaur, N. (2001,6 de julio). Caste and race. Frontline. India´s National Magazine. Arcives- Book Info18 (13). Recuperado de http://www.frontline.in/static/html/fl1813/18130950.htm
Ramanathan, V. (2001, 25 de septiembre). Caste, race and Durban Conference. The Hindu. Recuperado de http://www.hindu.com/2001/09/25/stories/13250541.htm
Otros
Constitution of India. Recuperado de https://www.india.gov.in/sites/upload_files/npi/files/coi_part_full.pdf
Douglas, P (2014). The Equality Act 2010: caste discrimination. Recuperado de https://commonslibrary.parliament.uk/research-briefings/sn06862/
International Dalit Solidarity Network. (2007, 23 y 26 de febrero). Statements and Reflections on CERD'S Review of India's periodic report, Ginebra. Recuperado de http://idsn.org/fileadmin/user_folder/pdf/Old_files/un/pdf/Responses_CERD_India.pdf
Macwan, M. (2001). (Un)Touchable in Durban. Recuperado de http://www.india-seminar.com/2001/508/508%20martin%20macwan.htm
Oommen, T. K et al (2001). Durban Conference must discuss Caste issue. Recuperado de http://www.ambedkar.org/News/Durbanconference.htm
Protection of Civil Rights (PRC) Act, 1955. Recuperado de https://indiacode.nic.in/handle/123456789/1544?view_type=search&sam_handle=123456789/1362
Report of the World Conference against Racism, Racial Discrimination, Xenophobia and Related Intolerance (2001). Recuperado de https://www.oas.org/dil/afrodescendants_Durban_Declaration.pdf
The Government of India (Scheduled Castes) Order. 1936
The Scheduled Castes and the Scheduled Tribes (Prevention of Atrocities) Act, 1989. Recuperado de https://indiacode.nic.in/handle/123456789/1920?view_type=search&sam_handle=123456789/1362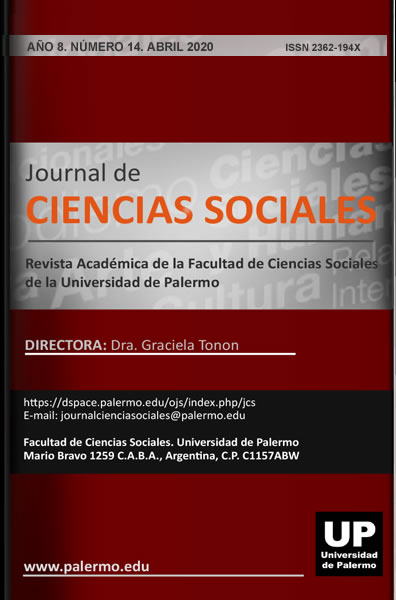 Cómo citar
Ibarra, N. L. (2020). Castas: Identidades que atraviesan fronteras. Journal De Ciencias Sociales, (14). https://doi.org/10.18682/jcs.vi14.2037